JAMM honors Mike Stratton for his significant contribution to jazz in Mid-Michigan on Sunday November 10th; 2-5 pm at UrbanBeat Event Center
Advance ticket sales closed. Tickets available at the door.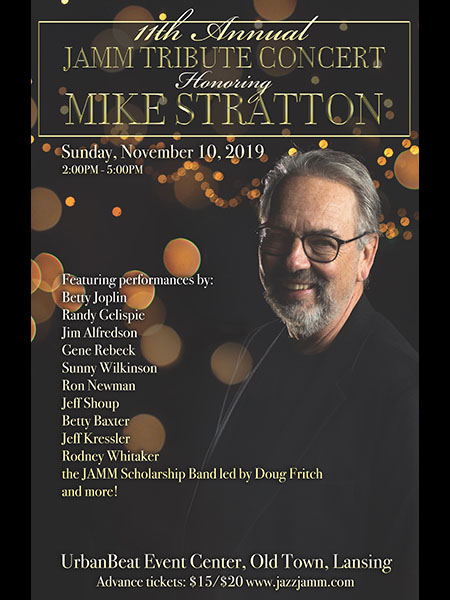 Mike Stratton has been the volunteer producer and host of one of the longest running jazz radio programs in Michigan, The Vinyl Side of Midnight (VSM), which is LIVE every Sunday night from 9 to midnight and repeated Friday evenings 7 to 9 p.m. VSM broadcasts from Lansing Community College (LCC) Radio, 89.7FM, WLNZ, or online at www.LCCRadio.org.
Attend the JAMM Tribute Concert and hear many of the musicians Mike has interviewed over the years–Rodney Whitaker, Betty Joplin, Randy Gelispie, Jeff Shoup and more!
In conjunction with his role as a DJ, Mike has emceed numerous festivals over the years–East Lansing Summer Solstice Jazz Festival, Lansing Old Town Jazz and Blues Festivals as well as the Detroit Jazz Festival. He's had the honor to give several preview lectures at the Wharton Center for the Arts over the past dozen years.
Advance tickets available HERE
$5.00 Student tickets at the door only