Be sure to check out some of our outright favorite jazz performers and JAMM members and supporters, at the 2018 East Lansing Jazz Festival, June 22-23.
Friday at the Main Stage, named after JAMM Founding Members Al and Beth Cafagna, will be songbird and former JAMM Tribute Honoree Sunny Wilkinson. She'll be there from 6pm – 7pm, so you'll want to be sure to head over, find out where the festival will be parking us all (major construction as you likely know), and where the stages will be, so you can find a seat in in time to hear Ms. Sunny's incomparable voice and fantastic song stylings. We hope to hear from her latest CD, "INTO THE LIGHT." Do an online search to read reviews and learn more.
Sunny's "favorite pianist" and husband, Ron Newman, also a Tribute Honoree and JAMM Founding Member, will be at the helm on the same stage, 9:30-11:00, directing the Lansing Symphony Big Band w/Benny Bennack, At the age of 27, Pittsburgh-born Benack III has been hailed by Nate Chinen of the New York Times as "a charismatic young trumpeter who maintains an earnest sideline as a singer". As a dual-threat, he's quickly established himself as one of the most versatile and virtuosic voices of his generation. 
At the MSU Outreach and Engagement Stage, our own JAMM Scholarship Band will open the festival, playing from 4pm – 5pm. Ian Levine will be sitting in on drums with Doug Fritch, on guitar, and also leading the band, all prior recipients of the Jazz Alliance of Mid-Michigan's Sandy Izenson Scholarship. The Education Stage is going to be located this year on Albert St, close to the intersection of Division.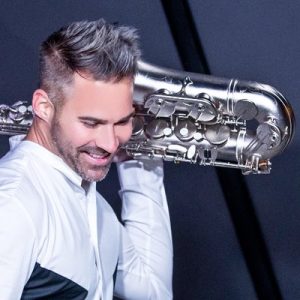 Closing it out at this same stage on Friday is one of Lansing's favorite sons, and great JAMM supporter and member, Phil Denny. He'll be hitting at 9:30 and ending about 11pm, if the audience will let him stop playing! (Well, they'll have to or the police will enforce the noise ordinance!) The funk comes out strong with this guy and so does the audience participation, so be sure to come over and see what's goin' on!
The MSU Big Band Symposium Orchestra, is a fantastic project started by another JAMM Founder and Director of MSU Jazz Studies, the preeminent Professor Rodney Whitaker. Two groups will perform, one at 3:00-4:00 and another, 4:30-5:30. You won't want to miss these great kids, who come from across the country in June to study with MSU staff and students.
Orchestra Ritmo, Saturday at the Founder's Stage, will go from 9:30-11:00 and finish out this wonderful festival. As many of you know, Mike Eyia is the leader of this stellar ensemble and has been a JAMM member, respected musician and great friend, for many years.