If you were lucky enough to see them, best friends, James McFarland and Julian Van Dyke, often painted next to the main stage at the East Lansing Summer Solstice Jazz Festival. Crowds would gather to listen to the tremendous music, while watching the two men compose their colorful images.
Tragically, James passed away in 2017 from a sudden illness, leaving a space that can never be filled, for those who knew and loved him. Julian, a locally known artist of paintings and murals, has agreed upon a special work to be offered this year, as a symbol of their many collaborations.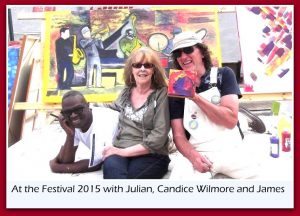 Not only will Julian will be painting on a stage in the Albert Street parking lot (behind the Peanut Barrel), but a piece he and James did together in 2011, entitled "Joint Effort," will be up for auction near that stage. This piece has been graciously donated by James' daughters, Michelle Humes and Jessica Graham.
You will be able to bid at the event, if you wish. All proceeds go toward the festival itself.
"Joint Effort", shown here, is 66 inches square. It is unframed and on canvas, and painted and signed by both artists.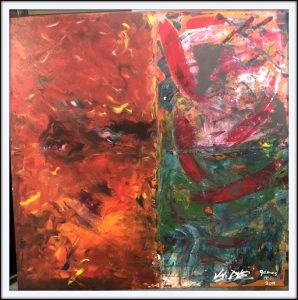 Apart from his interest and work with water for healing, he was a studied artist and a musician in his own right. He was also a great fan of jazz music and The Jazz Alliance of Mid-Michigan. His family, who took over his Lansing based Hotwater Works, gave proceeds from some of his paintings to JAMM earlier this year, during a memorial birthday event held at the store in Lansing.
The festival staff and volunteers are so very grateful to the family for contributing this wonderful creation and beautiful memory of a unique friendship.
We all know the pain of losing someone very special. The jazz community in this area still feels this loss, especially at events like Summer Solstice, held just blocks from where James lived in East Lansing. He was always there, bringing his usual joyful presence and creativity.
Despite our sadness, we are grateful that his daughters Michelle and Jessica, and their spouses and children, are now part of our wonderful jazz family.